News & Press
Victory Park development hopes to break ground by year's end
Victory Park development hopes to break ground by year's end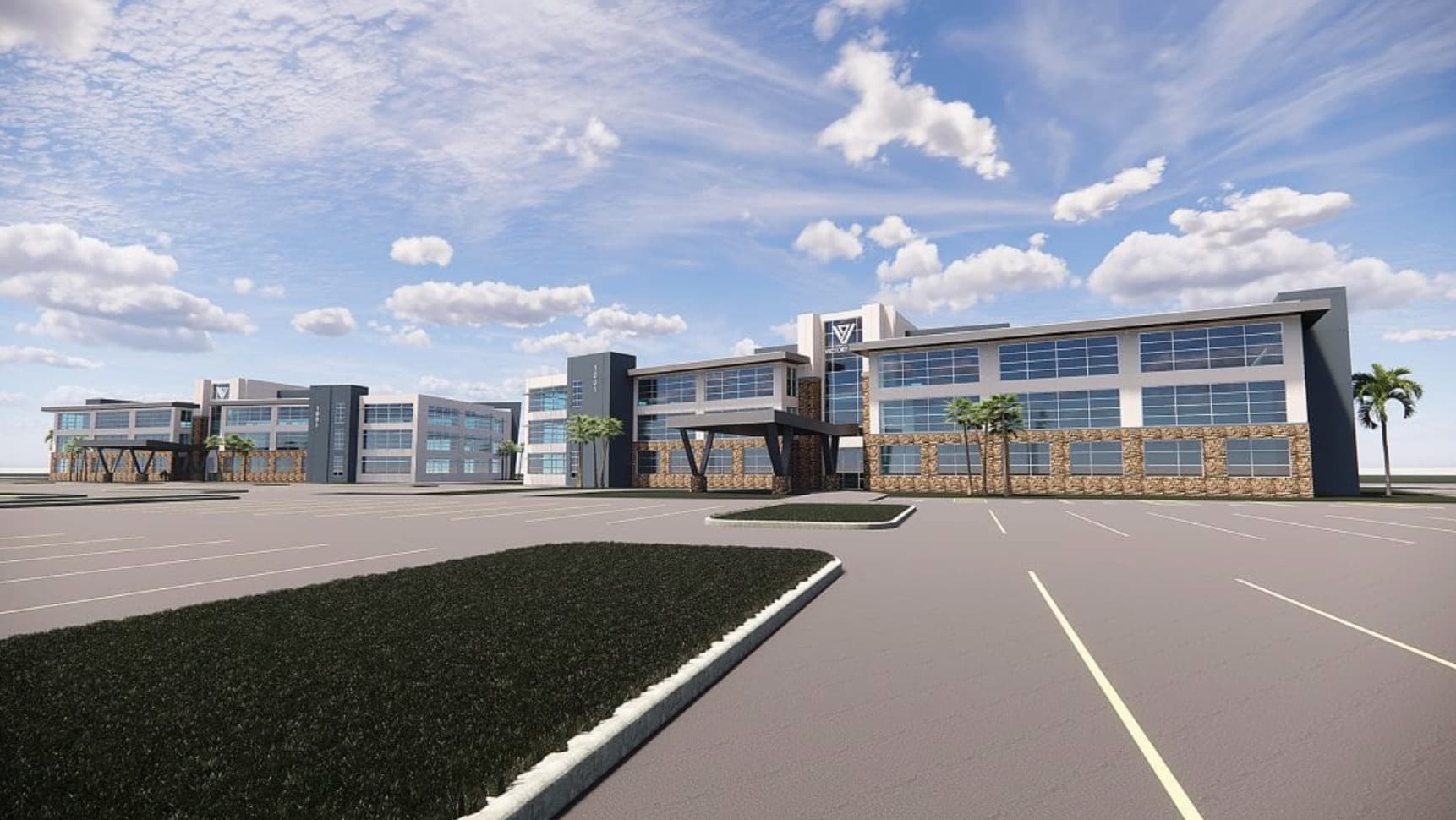 Plans call for 125-room hotel, commercial space, and 100,000 square feet of medical and
industrial space near VA Medical Center.
A commercial development project that will see the potential addition of a hotel and medical park could be
breaking ground in Cape Coral soon.
Blue Waters Development Group, LLC has announced plans to develop "Victory Park" which is to include a 125-
room Wyndham Garden hotel, commercial space, and 100,000 square feet of medical space and industrial
space. The park is to be located adjacent from the V.A. Medical Center on Diplomat Parkway and was designed
with local veterans in mind.
"The city of Cape Coral is one of the largest communities for veterans in the nation," said Danny Aguirre,

manager of Blue Waters Development Group. "We wanted to bring honor to our vets and Victory Park is

dedicated to them."
The nearby V.A. Medical Center and U.S. Department of Veteran Services annually assist hundreds of thousands
of veterans and reserve troops, many of which come from outside of Cape Coral. Aguirre hopes Victory Park can
serve as an outlet to individuals needing care at their medical offices or a place to stay.
"When we met with the V.A. administration, they mentioned to us that they provide services 'A, B and C' – and it'd
be great if we could provide services 'X, Y and Z' and give the vets a whole medical campus feel, and that's exactly
what we set out to do."
Aguirre said they are currently in the conceptual design phase of their "MOB" or medical office building. Aguirre
hopes to enter the permitting phase in the next few months for the MOB.
"What specific services (will be offered), we haven't identified that yet," Aguirre said.
Cape Coral Economic Development Office Manager Ricardo Noguera said he's looking forward to the
addition of Victory Park to Cape Coral, and that it fills a need.
"This is an exciting mixed-use development which will deliver yet another hotel to northeast Cape Coral along
with a medical office buildings and other services and jobs for the area," he said. "The Veterans Medical Clinic
immediately adjacent to the planned development sees more than 500 patients daily and there's a huge need
for a hotel, restaurants, medical offices, etc., nearby to support this huge anchor in the northeast section of the
city. We look forward to working with the developer on delivering one of the largest mixed-use developments
projected in the city over the next few years."
The Wyndham Garden hotel is currently in the permit phase with the city.
According to a Blue Water Development Group release, Wyndham Garden's newly introduced prototype is a
cost-effective concept that features a smart layout, designed to maximize efficiencies and combat rising
construction costs. It is inspired by the beauty of nature, and incorporates elements of dappled light, textured
wood, natural fabrics and flexible outdoor space. In addition, the Wyndham Garden presents a new food and
beverage concept, "nice & vice," offering a celebrity-chef-inspired menu.
"The Wyndham Garden will be a spectacular addition to the Cape Coral area," Aguirre said. "This new smart,
sophisticated concept brings the outside in with a connection to nature. This new hotel will welcome many
visitors to Cape Coral with a delightful twist on modern hospitality."
The six-story building also will feature a rooftop bar/deck.
As one of the fastest growing cities in America continues to do just that, grow, Aguirre said this project is one
that sets a standard in the community and aims to bring a quality product and quality job opportunities.
"The growth has been really impressive," Aguirre said. "The path of migration was already happening prior to
COVID, but COVID has really opened the doors to people leaving the northern and western states because of the
restrictions and taxations. Year over year, the transactions, the volumes and the dollar amounts being invested in
the region is really outstanding."
Aguirre hopes to break ground, depending on permitting, in the next 10 months and said once started, the
project will take 24 months to complete.