News & Press
Blue Waters Development Group's planned Victory Park in Cape Coral hopes to connect with area's military infrastructure
Blue Waters Development Group's planned Victory Park in Cape Coral hopes to connect with area's military infrastructure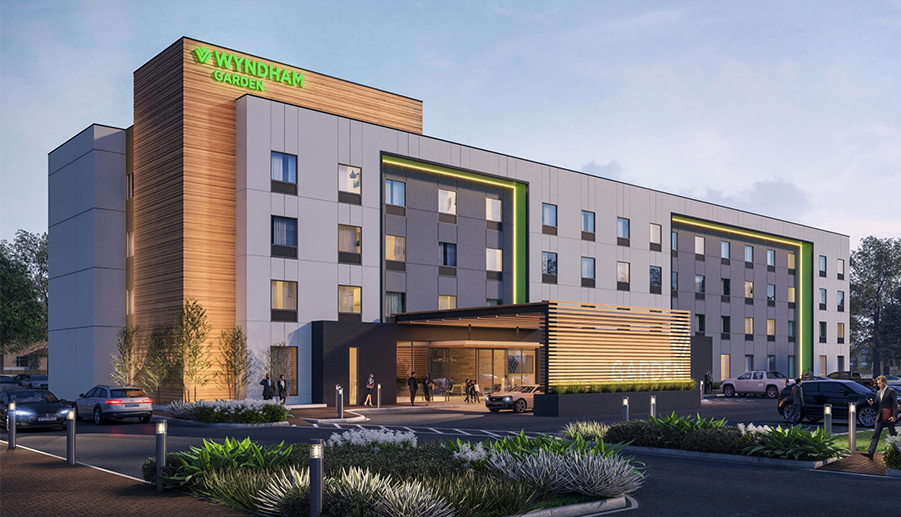 Blue Waters Development Group LLC, a two-year-old company based in Cape Coral, hopes to make a big splash
with a planned $400 million, mixed-use project beginning later this year.
The initial phase of the company's planned Victory Park project, a 125-room Wyndham Garden hotel and a two building
medical office complex, is expected to be completed by the end of 2023.
Both will leverage their proximity to the nearby Lee County VA Healthcare Center, which serves roughly 350,000
veterans annually, Blue Waters officials say.
"We're expecting that our campus will provide needed services for the vets attending the health center and
others," says Danny Aguirre, one of three Southwest Florida partners who formed Blue Waters Development in
early 2019.
"The key to our success there is that all the drivers are already in place," adds Aguirre, 42.
In addition to the hotel and 110,000 square feet of medical office space, Blue Waters and broker RealAmerica
Realty — a sister company to Blue Waters Development also of Cape Coral — are planning a subsequent phase at
Victory Park with roughly 200,000 square feet of "flex" office and industrial space. Future phases might also
include biotech-related tenants or like uses, he says.
To date, the medical office space has yet to secure a tenant and it remains in the "design phase," Aguirre says.
In all, the 150-acre project will have a build-out value of about $400 million, Aguirre estimates.
"More than anything, we're interested in building a quality product and providing quality jobs to the city of
Cape Coral," says Aguirre, whose partners are Daniel Thom Sr. and Marco Brummund. The trio have been
friends and business associates for roughly a decade.
And while obtaining traditional financing for a hospitality project might seem difficult in light of the COVID-19
pandemic, Aguirre says Blue Waters has that covered.
Victory Park will be "100%" financed by private equity capital, though he declines to say which firm, or firms, are
providing the money.
"We feel very confident that we can reach a level of occupancy that will ensure success," he says of the Wyndham
Garden hotel.
The six-story lodging project will feature amenities such as a rooftop bar, upgraded food and beverage offerings,
a swimming pool and fitness center. Wyndham describes the product as a "cost-effective concept" designed to
"combat rising construction costs" while accenting "the beauty of nature" with "dappled light, textured wood,
natural fabrics and flexible outdoor space."
The project is being designed by Dunedin-based dlw Architects.
Aguirre says room rates for the hotel have yet to be determined.
The Wyndham Garden would be Blue Waters' first hospitality project, and Victory Park its first ground-up
development.
But Aguirre says Blue Waters collective experience — its website says management is "highly experienced and
qualified, having accumulated over 85 years of experience in the real estate industry" — combined with
consulting help from Place Architecture, Gates Construction, EnSite and others will offset a lack of past
development work.
Aguirre, for his part, says he has more than two decades of real estate experience. Prior to Blue Waters, he coowned
and subsequently sold a series of businesses in Florida and California, including The Hair Color Experts
in Cape Coral, Live Shared in Los Angeles and Centina Building Services in Plantation, according to his LinkedIn
page.
"It's not about I, but the collective 'we,'" he says. "We feel that through working together with others we can
ultimately accomplish so much more."
He also believes Cape Coral's demographics will help Victory Park and a series of other projects get off the
ground.
The city, which at 120 square miles is the largest in acreage between Tampa and Miami, has been growing at an
enviable pace in recent years.
In 2010, for instance, Cape Coral had a population of roughly 154,000. By 2019, that figure had grown to over
194,000, according to U.S. Census estimates.
Aguirre expects the city's population to grow further as in-migration brought about by the COVID-19 pandemic
takes hold.
"The city has some impressive, outstanding numbers in terms of growth," he says. "And with COVID-19 putting
a strain on a lot of other states, it opens the door to Florida and specifically places like Cape Coral for people to
come here from the north, the Northwest and the West Coast. People are leaving those places in droves."
Moreover, he believes transplants to Florida, for the most part, will be affluent residents eager for new
developments of the kind Blue Waters hopes to deliver.
"We're finding that there's a lot of disposable income that's coming to this area and to Southwest Florida as a
whole," he says. "That's why we've worked to secure key locations where we can make a positive impact for the
community.
"We want to support the growth of the area through quality projects and quality jobs."
To that end, Victory Park isn't the only project Blue Waters is embarking on in 2021.
Island Pearl, a mixed-use development slated for a 12-acre tract of land in the northwest section of Cape Coral,
also is in the design stage.
Aguirre says the product, which Blue Waters plans to break ground on this summer with completion scheduled
for the second half of 2022, is being designed to contain retail uses, medical services and possibly some office
space.
In all, the single-story project is likely to contain about 70,000 square feet.
"That part of the city is very underserved," Aguirre says. "So we're hoping to create a vehicle to serve the
community there. The idea overall is that we want to help make Cape Coral an even more extraordinary place to
live."